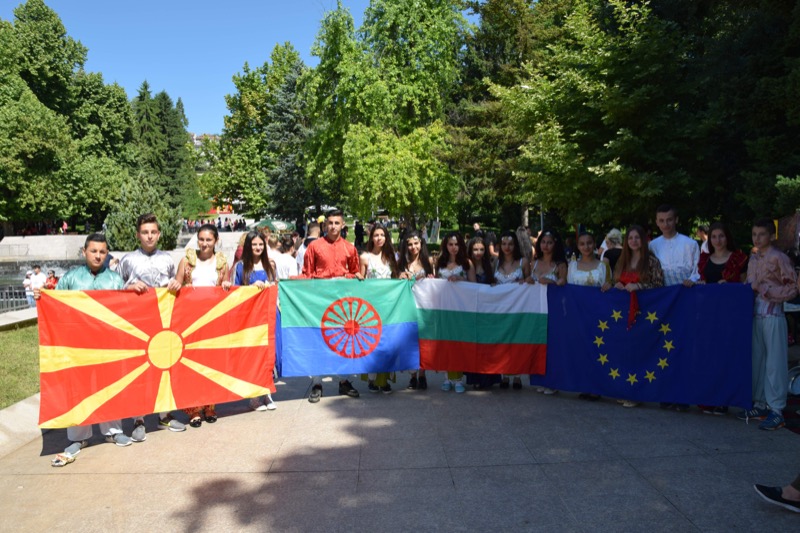 National Roma Centrum and "Braka Miladinovci" Primary School in Miladinovci, Municipality of Ilinden, with the support from the European Union's programme "Europe for citizens" for the 6th year in a row participated in the International Roma Childerens' Festival "Open heart" in Veliko Trnovo organized by the Center for Interethnic dialogue and tolerance "Amalipe" from Bulgaria.
As the only representative from Macedonia, NRC participated at the 14th International Roma Children Festival "Open Heart" from the 9th till the 11th of June 2017. 200 schools and over 2000 students from Bulgaria, who coloured the city in the traditional roma folk garb, participated at the festival which lasted 3 days. Different choreographies of traditional hora, modern dance, dramatisations of stories and solo singing performances were performed which made this event special.
The diverse students from "Braka Miladonovci" Primary School, lead by teachers Jovce Petkovski and Ankica Pertrusevska, managed to present the Roma culture, tradition and history by hora performance dressed in the traditional Macedonian Roma folk garb.
In a addition to musical and stage performances, there were stands that simbolically represented the tradition, culture and the Roma folklore and other ethnicities that live in Bulgaria. Many manufactured goods made from traditional Roma crafts from different Roma groups could be seen- such as wooden spoons, spindle, knives and many objects from willow branches which were made at the stands. Traditional Roma dishes and students' creative works were presented as well.