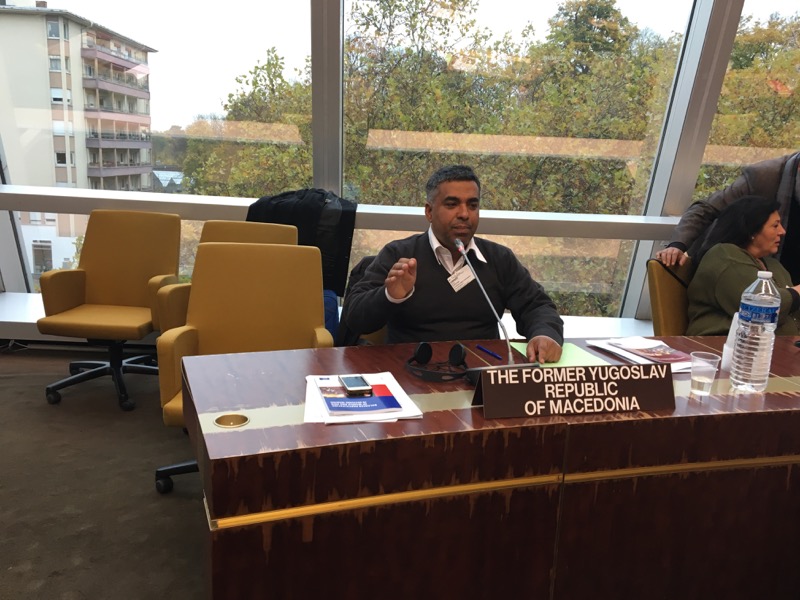 The Executive Director of NRC, Mr. Ashmet Elezovski attended the sixth International Conference for women Roma and Travelers, which was held on 6 and 7 November in the Council of Europe in Strasbourg, France. NRC was honored to attend this conference on which there were 80 official representatives from the European countries and from the Western Balkans. The conference strives to increase the political participation and presence of women Roma and Travelers on all levels of the parliamentary democracy. The expected direct outcome of this conference is the endeavor of the national political parties to undertake steps for providing larger gender equality, as well as participation of Roma women in the political life.
"The messages were very clear that the Roma women have the right to be part of the political processes, to make decisions that will improve her position" –said Mr. Elezovski.
Many female MPs and representatives from many countries, experts of the UN Committee had presentations in the conference, among them also Soraja Post, Euro parliamentary, member of the Roma ethnic community in Sweden. In the second part the present guests discussed about the participation and the systematic support in the elective process, where the members of the local and regional committees from many countries of Europe were discussing, representatives from Romania who are making efforts for bigger participation of Roma women in the politics. Among the debates there were expositions for voting quotes for Roma and Travelers.
"In the above mentioned debate, I stated that women are the wealth and the pillar of the family and the community. Roma women still can't be part of the political establishment, because there no seriously planned budgets on local, regional, national and European levels, and when these budgets will be opened there can be serious planning and essential participation of women in the politics" – said Mr. Elezovski.
In the debates and the conference were also exposed the experiences of the organizations that are assisting the parliamentaries in the direction of improvement of the position of Roma, but also there were opinions of artists, activists. Mr. Elezovski appealaed in the debate to the member countries of Europe with larger percentage of Roma to work on strengthening of their capacities, in order the Roma not to be, as he said, wrongly represented, and whose numbers vary from 15 to 18 millions.
"All the participants sent the message that there is a need for strategy and budget for bigger participation of Roma women in politics"- said Mr. Elezovski.
The Council of Europe has organized the conference in order to improve the participation of women in politics and the public life. Previously, the Council of Ministers from the Council of Europe in March 2016 has adopted the thematic Action plan for inclusion of Roma and Travelers which covers the period from 2016 until 2018 and among other priorities it covers improvement of the role of Roma women and promotion of gender equality.