For three months, the 21-years old Arthur Resve, a Masters student, studying Peace and Conflict Studies at the University of Kent in Canterbury (UK) and Philipps-Universitat Marburg (DE) was an intern in National Roma Centrum.
"The internship that I realized with NRC was actually a requirement for my programme. It also appeared as a chance for me to acquire more knowledge about the issues that Roma face in Eastern Europe, something that potentially interested me in order to write my Masters dissertation", says Arthur and adds: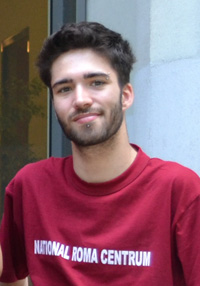 "The internship was an inestimable chance to experience both the life in a new country and culture, and the work of an NGO, two aspects that are highly valued for my personal benefit and on the job market".
Having the will in him to discover something new and to gather preliminary data for his work, he says that he started looking for organisations in Central and Eastern Europe – area which always attracted him.
"I contacted several Roma – based organisations and Human Rights organisation throughout the region, and NRC was one of them. I then received a positive answer from it, and motivated by my curiosity, I accepted the offer and started to plan my arrival and my stay in Kumanovo", remembers Arthur.
Positively surprised
He says that the period of work spent in NRC has definitely been a great experience for him.
"What I expected from the work was formatted by a previous work experience of two months in a Human Rights NGO in Lithuania. However, I executed here completely different tasks. I have had the chance to be in charge of the redaction of a project proposal; I have followed all the steps of this exercise, from the preliminary gathering of data to the actual redaction and the budget, and I got to understand better the process of grant applications and the specific requirements of donors for potential projects" he comments.
Furthermore, by being involved in other projects, Arthur says, he learned a lot on how the NGO was running, the financial aspects, monitoring and evaluating projects, how NRC was communicating, and with whom; the understanding and practise of all these dimensions of an NGO constitutes transferable skills which will definitely benefit me in the future.
Arthur originally comes from Paris. And although in the past several years the Roma issues in France are on the margin, he admits that he doesn't know much about the situation.
"I realized a short collaboration with the Secours Catholique – an NGO of the Caritas Network, which had a project in relation with some Roma settlements around Paris. However, the situation in France is in many ways different that in Macedonia. If prejudice and stereotypes are largely spread, they are mostly targeting the recent Roma immigrants originally from Romania and Bulgaria mainly, and this leads to a different consideration of the issues, because people are confusing Roma with Romanian, and discriminating all of them. Furthermore, the State does not legally recognise ethnic minorities and forbids any policies oriented to a specific group", says Arthur.
For the first time, the team of NRC had a chance to be a host and open the organization for foreign interns.
"Arthur fit perfectly in our team. Maybe because we aim towards the same things: humanity, nondiscrimination on any grounds, solidarity, self-realization, etc", say the members of the National Roma Centrum.
[post_gallery]