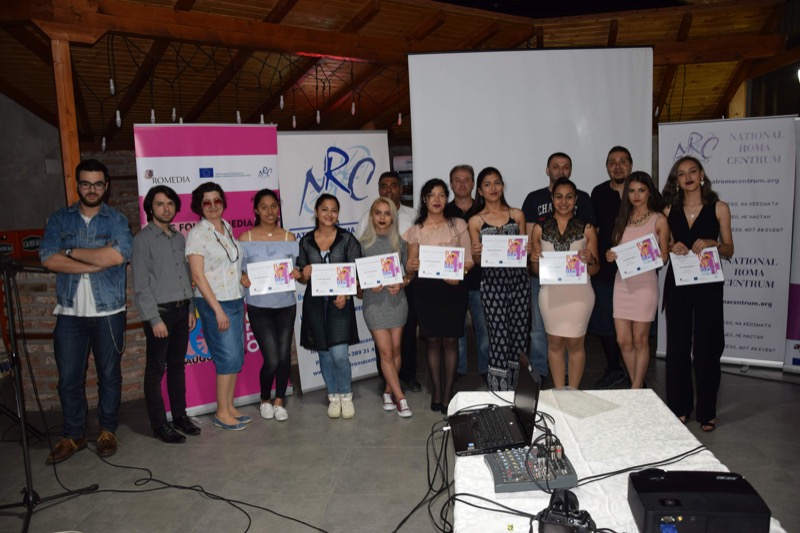 During a media camp Buvero 2016 Roma girls prepared three interesting video stories that were promoted to the audience and caused great interest
On June 1 the National Roma Center with support from the European Union Program "Europe for Citizens" organized promotion of short documentary movies prepared by the participants on the media camp Buvero 2016. Were promoted three documentaries: Life, Roma cuisine and Shadows of Life Stories.
"Life" is a biographical movie about the famous Roma singer Erdzan Ameti, a story filled with memories and lot of music. Scenario and realization: Atidze Jumerovska, Shazedina Medik, Mejrema Kasum and Sinela Demirova under mentorship of Asmet Elezovski.
"Roma Sofra" as a video story about traditional Romany food which is rich with the beauty of the preparation of the food, importance and cultural value. Authors of the movie are: Fejme Mustafovska Sabina Feta and Safet Asanovska, mentored by Slavica Curcinska.
"Shadows of Life Stories" is a creative documentary of 4 females stories relayed in a manner which aroused great interest among the audience at the promotion. The authors of the video Melissa Fejzulova, Mejrema Demirovska Melanie Bangova and Jenita Adilova who have worked mentored by Irfan Martez.
On the promotion officially were awarded certificates to all participating on media camp "Buvero 2016"
Media Camp "Buvero 2016" is a program for young Roma girls at age 18-26 from Macedonia. The main objective is to motivate young Roma girls through training in journalism and using new innovative digital technology. The training was implemented in August 2016.Training is divided into theoretical part where 4 days experts from various fields held theoretical lessons on the following topics: visually historical retelling, media ethics, identity, basic journalism, basic photography, video recording and television editing and a practical part where participants were divided into groups and record and edit their own videos. The training was implemented in August 2016.