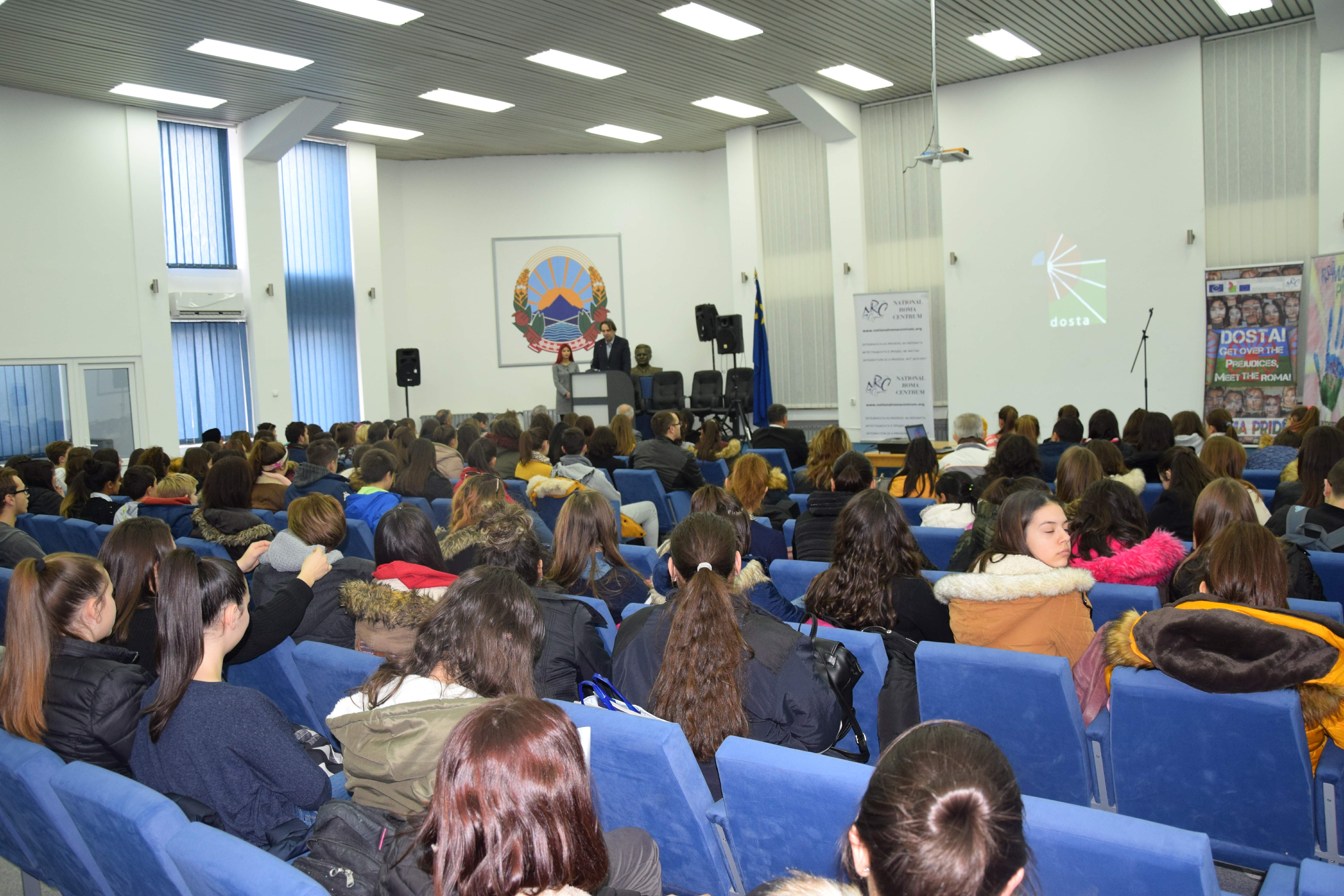 Through paintings and creative video students sent a message to stop stereotypes and prejudices
22 creative artworks were exhibited at the final manifestation of the campaign DOSTA! "Get over the prejudices, meet the Roma.  The creative artworks were made by students from elementary and high schools from Kumanovo.
The final manifestation was officially opened by the Coordinator for Equal Opportunities and the Coordinator of the Coordinative Body for Protection against Discrimination in the Municipality of Kumanovo, Mr. Coki Ristovski. The attendees were greeted and encouraged to continue creatively to face further challenges against stereotypes and prejudices. Mr. Naser Veselji Deputy Ombudsman in the regional office of the Ombudsman of Macedonia in Kumanovo and Mr. Petrus Teunis, a national team leader from CIVICA MOBILITAS also gave their support to the initiative.
Afterwards, the opening speech by Ambassador of the Republic of France to Macedonia, His Excellency Mr. Christian Timonie, was read whose words of support gave encouragement to the fight against this social phenomenon.
A video message from Strasbourg, France, was delivered by Chrisoula Arcoudis National Expert to the Roma and Travellers Team of the Council of Europe who introduced the attendees to the work of the team and the Campaign DOSTA and conveyed the importance of the impact on the reduction of stereotypes and prejudices.
During the final manifestation, certificates were awarded for participation of over 140 participants in the DOSTA Campaign with expression of gratitude to them for the cooperation and contribution to the realization of the activities, and for the creation of the creative video that was created during the implementation of the Campaign.
The realized activities of the Dosta Campaign and the celebration of the Day "Roma Pride" are supported by the Council of Europe's Program and have been implemented in the past 5 months in partnership and cooperation with primary and secondary schools in Kumanovo. The following activities were carried out: Workshop for recognizing stereotypes and prejudices, Artistic happening, Creative happening for marking the Day "Roma Pride" and Final manifestation for awarding certificates for participation and exhibition of painting works.