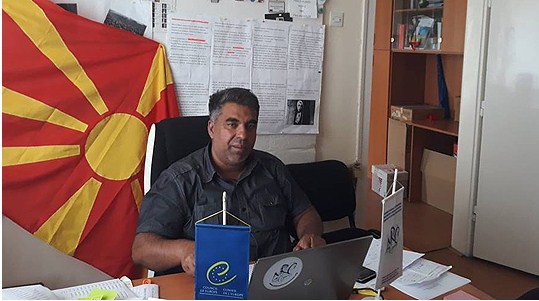 Kumanovo, September 13, 2018 MIA-The National Roma Center supports the integration of Macedonia into the European family, and it is important to get involved in the alliance that guarantees the security of the country, said, Asmet Elezovski, Executive Director  of NRC
He informed that NRC, with the support of the European funds, has implemented numerous projects in the past years, that have strengthened the capacity of the Roma ethnic community, students, persons without documents, women. NRC informed that it is part of the Civic Initiative  "Goes ahead" and together with other civil society organizations starts the information campaign, through which in the coming days, citizens will have better access to relevant information related to the benefits and challenges of membership in the European Union and NATO.
The funds are available to all interested, intellectuals, companies, civil society organizations and it can be said that Europe offers the opportunity to realize imaginative creations from which benefits have different categories of citizens, said Elezovski.
According to him, it is important to to familiarize citizens with the principles of the rule of law in the EU, whose ultimate protection is the right of citizen development.
Perspective Macedonia and Euro-Atlantic integrations are what all political subjects are advocating for, says Elezovski, but it remains the exclusive right, the citizens themselves to decide on this issue.
Citizens will decide on their own, democracy is that, and the word of the citizen should be respected, said Elezovski.
The campaign is informative and does not cite the citizens on specific steps regarding voting.
Retrieved from MIA
https://mia.mk/mk/Inside/RenderSingleNews/380/134453450